Ancient Healing Meets Modern Medicine
Everyone can achieve health and wellness.
Dr. Artemis supports her patients in their healing process by utilizing a combination of advanced conventional medical diagnostic assessment and testing, sophisticated naturopathic clinical tools, and time-tested traditional natural therapies, such as, herbal medicine and Acupuncture.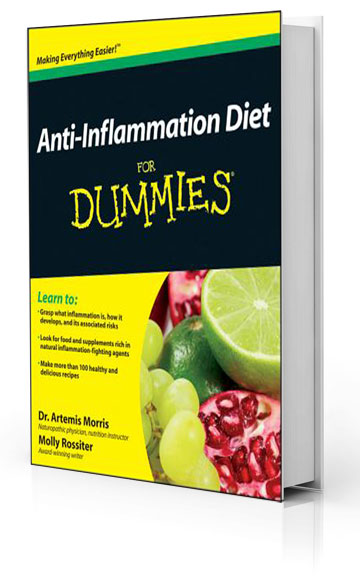 The Anti-Inflammatory Diet has been practiced in the Mediterranean for centuries.
Inflammation is the hidden factor in the pathology of disease, such as heart disease, diabetes, and cancer, and is not addressed nor tested by most physicians. In the book she co-authored, Dr. Artemis shares her passion and understanding of the root causes of inflammation.
There are many sources of inflammation, including, a poor diet, food allergies and sensitivities, stress, environmental allergies and toxins, and pathogens (bacteria, viruses, spirochetes, etc).  By reducing inflammation our risk of cardiovascular and heart disease decreases regardless of our cholesterol numbers.
Research has shown that the factors responsible for decreasing inflammation include omega 3 fatty acids and antioxidants.  Antioxidants, such as the pro-anthocyanidins found in blueberries, work by decreasing free radical damage to the cells of our body. Free radical damage happens when our immune system is activated by pathogens, allergens, and toxins. Antioxidants have also been shown to help prevent disease and are associated with longevity.
The additional elements in an anti-inflammatory diet are addressing food allergies and sensitivities and reducing toxins and pathogens that can cause immune system imbalances. Individualizing a diet and identifying food allergies and sensitivities with the help of your Naturopathic physician will allow you to eat the way that is optimal for your body and minimize the risk of developing disease.
Your Way to Wellness
The Mediterranean Diet can be beneficial in treating all these conditions:
Now is the Time
"Now is the perfect time to get rid of anything you do not need, including, the toxins that have accumulated in your body over time and are preventing you from being at your best. "
Visit Artemis Wellness Center
Benefit from an integrative treatment plan that combines the best of modern medicine, clinical nutrition, acupuncture, expert advice on herbal medicine and nutritional supplements, and lifestyle guidance uniquely for you.